The Department of Agro-food Safety and Crop Protection has been contributing to farm household by developing techniques for producing agro-foods which consumers could choose with relief.

The Department of Agro-food Safety and Crop Protection at National Institute of Agricultural Sciences promotes technical development to support the production of safe agro-foods and fundamental research to achieve four main goals with the vision 'Construction of management foundation to produce safe agro-foods at the level of G7 developed countries'. The goals are: 1) development of safety management techniques for residual chemicals in agro-foods and agricultural environment, 2) development of the integrated pests and weed management technology in response to the climate change, 3) development of risk assessment system of pesticides for human & environmental toxicity and bioactivity, and 4) development of technology and GAP practices for ensuring microbial safety.

The Department of Agro-food Safety and Crop Protection consists of four divisions, Residual Chemical Assessment Division, Crop Protection Division, Toxicity & Risk Assessment Division and Microbial Safety Division. Each division has its own task. The main goal of Residual Agrochemical Assessment Division is comprehensive management of the hazardous substances for the production of safe agricultural products. Crop Protection Division is conducting research on the establishment of a comprehensive management system for pests and weeds that occur in crops and farmland. Toxicity & Risk Assessment Division is carrying out the evaluation of pesticide for registration and researches on the development of management system for pesticide safety. Microbial Safety Division is conducting research on the spread and expansion of GAP production technology and the reduction of harmful microorganisms in agri-foods.

Also, our researches are centered on three main targets such as on-farm research, thorough customer management, the reinforcing publicity in real-time and so forth.
(1) Residual Chemical Assessment Division
To control various chemical contaminants in agro-food, it is needed to integrate hazardous substances management scheme which can guard the agro-food safety. Our division conduct establishment of specialized analysis and monitoring system, and various program to minimize the risk of residual chemical in agro-food.
1. Setting of the pesticide safety standards and quality control of the pesticide analysis
For the production of safe agricultural products, we have set the pre-harvest intervals(PHIs) of registrated pesticides and the temporary maximum residue limits(MRLs), respectively 500 per year and 200 per year. We have published "the analytical methods of pesticide residues" and "residue definition in environmental sample or crop" for solving difficulties in agricultural field. In addition, for the reliability of analysis data, we have conducted the proficiency test for pesticide analysis laboratories in agricultural technology centers.

[Publication of the analytical methods and residue definition]
2. Introducing and distributing safe pesticide application manual for exporting agricultural products
In order to solve recent residual pesticide issues on exporting agricultural product, we introduced a safe application guideline of pesticides for 30 major export crops. And it has been used for education on field as good reference.

[Publication of the safe pesticide application guideline]
3. Development of new multi-residue analytical methods for pesticides and organic pollutants, and establishment of the quality control protocol
We developed new multi-residue analysis methods. Conventional residue-analysis methods had complicated multi-step pretreatment protocols for its credible results, thus we modified and simplified these protocols with GC/MS(MS) or LC/MS(MS). The residue analysis of chemical contaminants in agro-food which require accurate measuring facility and credible result, has been constructed with specialized operating guideline for quality assurance.
4. Monitoring and establishment of mitigation measures of residual pollutants in agricultural environment
Residual pollutants including heavy metals, agricultural anti-biotics and organic pollutants pose a risk to agricultural environment and public health. For identification of the risk, we survey farmland soil, agricultural water and crop, and quantify the levels of pollution from the residual pollutants in environment. To minimize the risk of rice arsenic, agricultural measures reducing arsenic uptake by rice plant were established and the measure, water control for example, can be easily and effectively applied to paddy fields vulnerable to arsenic pollution.
5. Evaluation of pesticide residue in crops and determination of pre-harvest internals
We evaluate report of residual pesticide in crops for the pesticide registration and establish a tentative pre-harvest interval (PHI) and maximum residue limit (MRL). Based on this, we support securing residual pesticide safety.

(2) Crop Protection Division
The Crop Protection Division consists of six lab. Plant Fungal Disease Lab., Insect Pests & Natural Enemies Lab., Weed Science & Nematology Lab., Pest Risk Assessment & Plant Virus Lab., Fire Blight Management Lab., and Fire Blight Epidemiology & Diagnosis Lab.
1. Diagnosis and Management of Crop Fungal Diseases
The climate change and the environmental changes in agricultural ecosystems led to a significant increase of new emerging disease incidence in crops that are grown in Korea. To cope with these agricultural environment changes, we developed identification and diagnostic techniques and control method for casual agents of some plant fungal diseases. Fusarium fujikuroi causing soybean Fusarium wilt was reported for the first time in Korea, and deodeok sclerotia rot caused by Sclerotinia sclerotiorum and potato verticillium wilt caused by Verticillium dahliae were reported for the first time in Korea. We also developed a specific primer for the diagnosis of benomyl resistant Fusarium fujikuroi causing rice bakanae, establishing a rapid and accurate monitoring system. In addition, in order to select disease resistant genetic resources, a bioassay system for resistance to Fusarium wilt of soybean and sclerotia rot of vegetables were constructed.
[Soybean Fusariumwilt caused by Fusarium fujikuroi]
[Deodeok Sclerotiarot caused by Sclerotinia sclerotiorum]
[PCR using specific primer for detection of benomylresistant F. fujikuroi]
[Disease resistant response of Korean soybean cultivars against Fusariumwilt using seedling assay]

[Disease resistant response of commercial lettuce cultivars against Sclerotiarot using seedling assay]
2. Development of population dynamic model and control tactics of agricultural insect pests
We studied the temperature dependent development and oviposition characteristics of Laodelphax striatellus (SBPH), Sogatella furcifera (WBPH) and Cnaphalocrocis medinalis (RLF) for population dynamic models. The models of SBPH, WBPH and RLF were developed using DYMEX® program.
The result showed that the models have high predictability of stage structure of SBPH, WBPH and RLF at certain time. In addition, we tried to prevent lantern fly (Lycorma delicatula) invading grape orchards with trap plants which were injected with 10% glucose aqueous solution plus 1% insecticide (lambda-cyhalothrin+thiamethoxam). This study was performed in four sites, Young-cheon, Kyeong-san, An-sung, and Yeon-gi. After the trap plants were set in a nearby hill, we counted the invading lantern flies from the nearby hill to the field of grape vines. Result of the trial revealed that the blocking effect of the trap plants in Young-cheon and Kyoung-san was 70~80%, but less effective in An-sung and Yeon-gi sites.A parasitoid natural enemy which attack the lanternfly that invaded Korea few years ago was tested for introduction to natural habitat of Korea. The egg parasiotoid, Anastatus orientalis, was imported from China where it plays an important role in suppressing the lanternfly, and was under experiment to assess its potential risk to the ecosystem of Korea. After completion of the risk analysis and it turned out to have no harmful effect, we will mass rear the parasitoid using substitute hosts and release them to two selected regions where the lanternfly population was high.
The effect of natural enemies on four major pests of hot plant was tested in plastic greenhouses.
The aphid was successfully controlled by introduction of three Aphidius-banker plants and releasing with 23.3 wasps per m2 on April 16, and 23 in a greenhouse of 660m². To control thrips, Orius laevigatus was released two times, 3.0 bugs per m² at a time (May 11st and June 12nd). And the thrips population was controlled under 0.3 thrips per flower growing season. To control of two mite and a whitefly, Tetranychus kanzawai, Bemisia tabaci and Polyhagotarsonemus latus, a total of 113.7 individuals of Amblyseius swirskii were released two times (May 11st and 30th), and the densities of B. tabaci and T. kanzawai were kept under 171.0 individuals/trap and 0.8 individual/leaf, respectively. P. latus was suppressed completely 12 days after the release.
3. Establishment of a customized management system to reduce damage from crop virus diseases
As an organization responsible for plant virus genetic resources, we are in charge of deposit, registration, preservation, and distribution to secure the diversity of domestic plant virus genetic resources and support research. As of 2020, 886 plant viruses from 163 species were deposited and preserved, and 21 standard strains of 15 plant virus species were selected for standardization of plant virus research. Infectious clones for each virus standard strain were constructed, and bioassay methods for resistance evaluation were established using standard strains of tomato spotted wilt virus (TSWV) and pepper mild mottle virus (PMMoV). In order to prepare a precise distribution map for 12 nationally managed viruses, we developed and disseminated the diagnostic techniques necessary for distribution survey and early diagnosis. Through the pest risk assessment, the risk of newly emerging viruses in Korea is evaluated, and distribution surveys and management manuals are being developed for viruses of medium or higher risk. We are carrying out tasks such as investigating and diagnosing for newly introduced crops, analysis of the interaction mechanism between plant virus-insect vector-intermediate plant, and diagnosis service for agricultural sites. Image diagnosis technology is being developed to determine vegetable viral diseases and physiological disorders. In order to prevent the inflow of foreign high-risk plant virus diseases into Korea in advance and to develop early countermeasures, about 300 high-risk viruses were selected, listed, and their data were collected. By installing smart aerial net traps in 40 areas including Taean of Korea, as well as in Vietnam and Thailand, we are monitoring in real-time status of outbreaks of planthopper that mediate virus.
[plant virus genetic resources]

[Distribution map of nationally managed viruses]
[Listing of inflow-concerned high-risk viruses]

[Establishment of web-based information exchange system]
4. Management of nematode damage and weed
The nematode damage is gradually increasing due to the increase in cultivable crops due to climate change and continuous cultivation of single crops. To cope with this problem, we have researched the establishment of a nematode occurrence DB for each local specialized crop and related control technology. For DB establishment, nematodes occurring in specialized crops such as perilla, Chinese cabbage, fig, taro, and hemp were investigated and root-rot nematodes + helix nematodes (perilla), cyst nematodes (cabbage), and root-knot nematodes (fig, taro, hemp) were detected, respectively. In order to minimize nematode damage, we conducted research on control techniques applicable to the field, such as disinfection method using 0.5% sodium hypochlorite solution (garlic), selection of 5 candidate pesticides for management of cyst nematodes (cabbage), and selection of 4 types of plant extracts(figs) in consideration of organic cultivation.
Spiny sowthistle is one of the representative foreign weeds, and when they occur, they can cause physical damage due to thorns, as well as a decrease in the yield of agricultural products. This weed was generated in all agricultural fields in the south of Gyeonggi-do, especially in the citrus orchards on Jeju Island. The germination rate of this weed was very high, over 80% regardless of the temperature. So it can spread quickly when it occurs Since weeds germinate only on the surface of the soil, it is possible to control them through physical work such as tillage and when it occurs in an orchard, it can be controlled by treating 7 types of soil treatment herbicides registered in the orchard.
5. Characteristics of outbreak of fire blight on apple and pear for management of it
To find out the cause of the fire blight outbreak in apples and pears of Korea in 2019, we investigated disease appearing situation of thirty fire blight infected orchards, and interviewed farmers to determine the cultivation characteristics. Fire blight occurred mostly in orchards that had infected more than 2 years before. The cause of this were as follows: farmers did not know the symptoms of the disease properly. It is presumed that it has spread from the first occurrence to the surrounding orchards by flower-visiting insects or farmers and to a short distance or a long distance by the same cultivator or co-farmer. These series of processes repeated in the newly spreading area, and then disease reports increased as farmers became aware of fire blight. To minimize the spread of fire blight in Korea, it suggested that thorough education of farmers for early diagnosis and quantitative detection technology that can diagnose even in no symptom showing plants. And chemical or biological spraying systems suitable for domestic cultivation methods, which are producing large fruits, and molecular epidemiological studies of pathogens.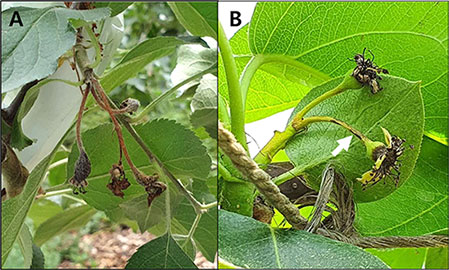 [Symptoms of the blossom blight of apple (A) and pear (B); the sign of white narrow is similar to a symptom of pear scab]
6. Development of fire blight diagnostic technology
To develop diagnostic technology to advance quarantine bacterial diagnosis and genetic diversity distribution investigation, we establish advanced precision-based technology for predicting outbreaks connected with genome and microbiome information by excavating indicator microorganisms. Recently, we developed a diagnostic quantitative analysis method (qRT-PCR) to differentiate between Erwinia amylovora and Erwinia pyrifoliae for early and precise diagnosis of Fire Blight which made it possible to reduce the diagnostic time that previously took more than 60 hours to within 1-1.5 hours. It can detect up to 100 individuals, significantly improving the precision.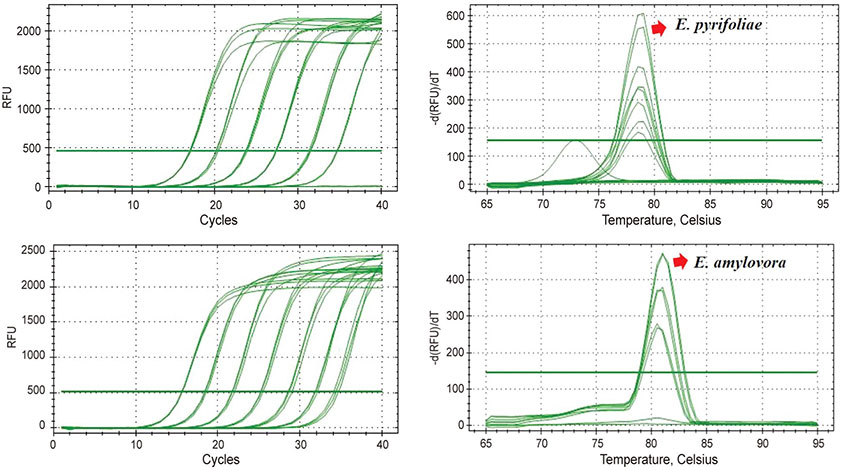 [Development of Real-time PCR assay for Erwinia amylovora and E. pyrifoliae]
(3) Toxicity & Risk Assessment Division
Pesticides are one of the most stringently regulated substances under the Pesticides Management Act in Korea. Toxicity and Risk Assessment Division as one of branch of Department of Agro-food Safety and Crop Protection reviews and assesses the dossiers submitted by pesticide and organic agro-material companies for the registrations. Our mission is to prevent unacceptable risks to human and the environment from pesticides exposure as well as to select effective pesticides to target pests. To accomplish this goal, each pesticide and organic agro-material goes through a series of scientific evaluation to determine if it meets current health and environmental standards. Only those Agro-Material products that pass the assessment can be accepted for use in Korea. RDA's involvement does not end after Agro-Material product include pesticide is on the market.
Both pesticides qualities and how they are used are monitored through a series of education, compliance and enforcement programs. Furthermore, after a pesticide has been on the market for several years, RDA conducts another evaluation. It re-evaluates the pesticide using the latest scientific methods and information to determine if it continues to meet the current health and environmental standards and whether it can continue to be used in Korea. Pesticides are re-evaluated every ten years.
And also we carry out scientific researches such as animal alternatives tests and honeybee and fish toxicity tests for the upgrade of the evaluation system as well as international harmonization of our system.
1. Evaluation of applications from companies for pesticides registration and distribution
For the excellent pesticides registration and distribution, a comprehensive evaluation of the safety issues of applications handed in types of documents, samples etc are conducted, and a Pesticides Professional Committee is held for further review.
[Status of pesticides registration]

[Pesticides Professional Committee]
2. Human Toxicity and Risk Assessment Advancement of Pesticides
Toxicity and risk assessment of pesticides are being carried out for authorization on consumers and agricultural operators. Acceptable Daily Intake(ADI) of 460 and Acceptable Operator Exposure Level(AOEL) of 320 active ingredients have been established. Toxicity category of 3,400 pesticides was classified according to the degree of toxicity. In addition, various studies such as animal alternatives are being carried out for the advancement of the evaluation system and international harmonization. Human health risk assessment was conducted to assess the risk to people who use pesticides, and the system is being improved by establishment of cautions and criteria on use restriction.

[Acute Dermal and Eye Irritation study]

[Risk assessment of agricultural operator exposure to the Pesticides]
3. Environmental toxicity and risk assessment research
Our lab evaluates the probability that pesticides for market may cause harmful effects on environment and wildlife by reviewing pesticide registration data on non-target aquatic and terrestrial organisms according to the Korean Pesticide control act. We also carry out several research projects to improve ecotoxicological risk assessment and develop new test methods as research products. Currently, our studies are mainly related to the toxicity assessment of pesticides to pollinators, zebrafish embryos, and chironomids. We have been maintaining a properly functioning aquarium system for fish (zebrafish, Cyprinus Carpio, Oryzias Latipes, and Misgurnus anguillicaudatus) and cultivation systems for daphnia, chironomids and earthworm for ecotoxicity tests.
[Honeybee larval toxicity test]

[Honeybee semi-field test]
[Aquarium system for carp]

[Zebrafish embryo toxicity test]
4. The establishment of the test guidelines and the standards to evaluate the efficacy and crop safety
Each pesticide has to not only possess its control effects to target pests but little to side effects like phytotoxicity to the crops. Thus we have been establishing the test guidelines and proper standards to evaluate the efficacy and phytotoxicity in pesticide registration process. As PLS(positive list system) is fully enforced in Korea since 2019, we are evaluating a lot of pesticides on efficacy and crop safety for small area cultivation crops. Pesticides are classified according to mode of action of ingredients by Resistance Action Committee(RAC) and we apply the label criteria to each pesticide by labeling the mode of action. We introduce classification system of pesticides in order to reduce resistance development by avoiding successive use and limiting the number of application of the same pesticide on the same site of action in the same field. We also plan to establish reasonable pesticide water volume for crops and efficacy test method by spraying equipment(ex. Agricultural drone) for the proper use of pesticides.
[Guidelines for pesticide registration trial of efficacy and phytotoxicity]

[Labelling the mode of action]
[Setting of pesticide water volume]

[Agricultural drone spraying test for aerial application guidelines]
(4) Microbial Safety Division
In agri-foods, food poisoning outbreaks can occur at any stage of production and circulation and cause not only health risks but also safety issues. To prevent such outbreaks, it is required to develop necessary technologies such as monitoring, diagnosing hazardous causes and effective control measures. Microbial Safety Division deals with microbial risk factors and focuses on researches and developing technologies to ensure microbiological safety in agri-food production.
1. Development of Hygienic Practices to support GAP system and Exportation
GAP(Good Agricultural Practices) is a prevention-based food safety system designed to prevent, reduce to acceptable levels, or eliminate the hazardous materials associated with agri-food.
To support GAP(Good Agricultural Practices) system, we have developed hygienic management practices such as monitoring, sanitizing and detection techniques of microbial hazard. To enhance the safety of exported agri-food, identification and control of hazardous microbe contamination sources in production sites have been conduced by RDA.
[Monitoring of microbe hazards from agricultural environment and agri-food]

[Rapid detection and sanitation techniques of hazardous microbes in agri-food processing facility]
2. Mycotoxin research in agro-crops
Mycotoxins occur in various agro-crops including small grains. In biotoxin laboratory, we investigate major grains such as rice and wheat, and others which are prone to mycotoxin contamination for occurrence of mycotoxin and causal fungi. We analyze the characteristics of mycotoxigenic fungi and aim to develop technologies for prevention and reduction of mycotoxins during production, harvest, and storage of agro-crops.
[Fusarium head blight of barley and wheat]

[Characterization of toxigenic fungi and analysis of mycotoxins from agro-crops]
3. Detection and control of pathogenic viruses in agricultural environment and products
Agricultural products can be contaminated with pathogenic viruses through environment factors including water, soil, and infected handlers. We examine the contamination levels of viruses and develop the control method to inactivate virus particles in agricultural environment and products. Also, we provide the guideline for detecting viruses in irrigation water using for the cultivation.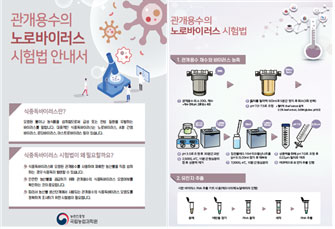 [Guideline for detecting viruses in irrigation water using for the cultivation]
4. Monitoring and surveillance of foodborne pathogens on antimicrobial resistance
The recognition of antimicrobial resistance (AMR) as a public threat has led to strong national calls for all relevant agricultural fields to develop and implement national strategies and action plans. In order to minimize of antimicrobial resistance, science based species or sector specific responsible and prudent antimicrobial use guidelines should be developed, implemented and reviewed on a regular basis to maintain their effectiveness. Therefore we will develop the rapid methods to detect such microorganisms and the standard methods to evaluate of antimicrobial resistance by minimal inhibitory concentration(MIC), disc diffusion and E-stripe test that are adopted in CLSI, EUCAST.

[Minimal inhibitory concentration (MIC) testing]